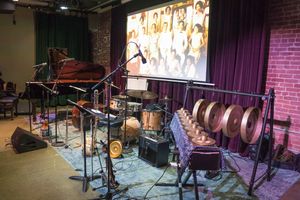 "Buffalo Soldiers in the Philippine American War:
A Crisis of Conscience" 
A multi -disciplinary work by John Calloway
presented by the museum of african diaspora and the asian art museum
Native Filipino and African American preludes 
Reading: The Buffalo Soldier 
Soldier's Way – John Calloway, composer  
Reading: Excerpt from 'Smoked Yankees' and the Struggle for Empire: 
Letters from Negro Soldiers 1898—1902 by Willard B. Gatewood, Jr.
Boat Ride to Manila – John Calloway, composer
Mananakmal (Devourer) – Conrad Benedicto, composer 
Sinulog a Kangungudan – Danongan Kalanduyan, composer 
La Colonial (Quiapo) – John Calloway, composer 
Dedicated to Magdalena de la Rosa Calloway, Afro-Filipina actress, singer and dancer 
Reading: John W. Calloway's interview with Filipino natives for the Richmond Planer, 1899 
Kapatid (Sibling) – Mario Nomi, composer
Itim (Black) – John Calloway, composer 
Dedicated to Paul de la Rosa Calloway 
Reading: Excerpt from "Imperialist Paranoia & Military Injustice: 
The Persecution and Redemption of Sargent Calloway" by Gil Boehringer 
Left My Shackles at the San Isidro Crossroad – Tongo Eisen-Martin, composer
Crisis of Conscience – John Calloway, composer 
Reading: John W. Calloway's letter to Tomas Consunji 
A Change Is Gonna Come – Sam Cooke, composer 
Echoes of the Past/Into the Future – Aimee Suzara, composer 
Diaspora – John Calloway, composer 
PERFORMERS
Ting Josue Alvarez-Maquinta – reader,dancer 
Conrad Benedicto – kulintang instruments 
Sam Brown – violin 
Deszon Claiborne – drums 
Manuel Dragon – kulintang instruments 
Daniel Giray – dancer 
Zakarias Grafilo – violin 
Umali Horne – reader, vocalist 
Murray Low – piano 
Mario Nomi – spoken word
Marcela Pabros-Clark – dancer 
Rebecca Rodriguez – percussion 
Aimee Suzara – spoken word 
Marcus Shelby – bass 
Chris Trinidad – bass 
John Calloway – flute and kulintang instruments 
"Buffalo Soldiers in the Philippine American War: A Crisis of Conscience" is an artistic representation and reflection of the struggles and aspirations of African American soldiers and Filipinos during the Philippine–American War.  Their conflicts, hopes and sense of solidarity as marginalized entities in dealing with U.S. imperialistic aggressions will be highlighted today. While some of the artistic work here centers on the personal writings of my grandfather John W. Calloway, particularly from Gil Boehringer's "Imperialist Paranoia and Military Injustice: The Persecution and Redemption of Sergeant Calloway," there were other invaluable literary sources, about the larger African American and Filipino narratives, including Michael Morey's book "Fagen," about David Fagen, the most known American to have defected to the Filipino National Army. 
Finally, the artistic work here is not solely mine, but with poignant spoken word compositions and contributions from Filipino American and African American artists. Indeed, all the artists performing today are culturally connected to this project by race/ethnicity/familial ties or osmosis. 
–John Calloway, Ed.D
Thanks to the San Francisco Arts Commission for funding the project and the Yerba Buena Gardens Festival, the Asian Art Museum, and the Museum of the African Diaspora for additional funding and support.
Individual thanks to Becca Calloway-Mosley, Chris Cortez, Gil Boehringer, Angie Doctor, Mary D'Orazi, Jeremy Goody, Cristina Ibarra, Avotcja Jiltonilro, Luis Medina, Michael Morey, Indra Mungal, Alleluia Panis, Marcela Pabros-Clark, and Jesse "Chuy" Varela.