buffalo soldier - afro filipino project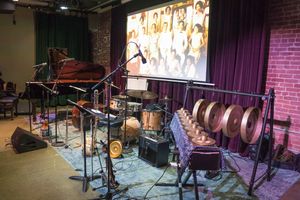 Telling both a historical and personal narrative through live music, spoken word, poetry, and visual elements, Buffalo Soldiers in the Philippine American War: A Crisis of Conscience is a multidisciplinary performance examining the experiences of Black soldiers during the Philippine-American War of 1899–1902. The piece considers the moral dilemma that Black soldiers faced in their charge to help subjugate Filipino people while at the same time being marginalized themselves. It also depicts the Filipino narrative of resistance to the American intervention, as well as the complex interpersonal relationships between African American soldiers and the Filipino population. The performance features musicians on piano, bass, flute, violin, and percussion elements including tribal drums and Kulintang.
About the artist
Multi-instrumentalist and composer/arranger Dr. John Calloway has been a mainstay in the Jazz, Latin, and Global Music scenes for more than 45 years. He has performed and arranged music for musicians including John Santos, Marcus Shelby, Kulintang Arts, Pete Escovedo, and Israel "Cachao" Lopez; his work as a composer includes the theater piece "El Son de La Mision," the HBO film "Hemingway and Gellhorn," and the Emmy Award-winning San Francisco Giants television commercial "No Hay Nada Mas SF." Calloway is the director of the Latin Jazz Youth Ensemble of San Francisco and the Afro Cuban Ensemble of San Francisco State University.